"VIVAAN PREFAB- BUILDING RELATIONSHIP WITH STEEL"
Vivaan Prefab is a complete solution provider for Pre Engineered, Prefabricated Modular Relocatable Buildings with Insulation options. Powered by professionally trained, experienced and dedicated team, we are a one stop solution for your civil works, steel buildings, roofing, insulations, all PEB or PUF building requirements. We offer our clients support and services through design, engineering, manufacturing, project management, procurement and logistics to deliver whatever project's needs. Having clients among Multinational Multibillion industries to Emerging startups, across length and breadth of country, we understand clients' needs to provide best tailor made solutions. We are committed for timely delivery, quality and total reliability in Manufacturing, Supply and Installations.
PRE-ENGINEERED STEEL BUILDING
These are tailor made buildings based on client's requirement & whose actual design calculations is measured using tapered sections. Its development includes a combination of built up sections, hot rolled sections, cold formed elements and profiled sheets. Its development process includes designing, fabrication and erection of building components. All the designing and fabrication is done by us in fully developed manufacturing unit and then it is brought to the site for fixing and jointing to form a PEB BUILDING.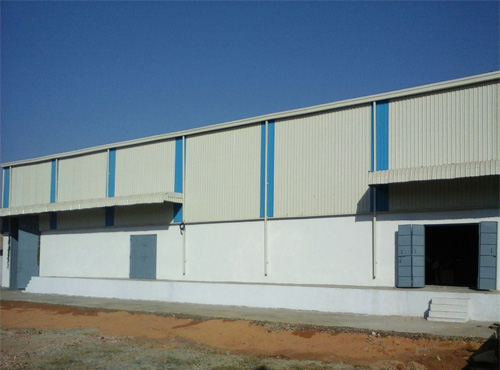 One of the largest application of pre-engineered buildings is in construction of warehouses for storage of goods. Warehouses are used by manufacturers, importers, exporters, wholesalers, transporters, custom clearing houses etc. The benefits of construction warehouses with PEB is cost effectiveness, speedy construction and the building can be constructed with clear spans thus allowing usage of maximum space.
We are providing PEB Structure of cold storage or cold shed, which are constructed on large and small scale level. We also provide PUF insulated panels, which are applied to food processing, hospitality, warehouses, food retail, dairy & ice cream industry, meat, chicken & fish processing industry, floriculture, pharmaceuticals and many others. We provide turnkey solutions for modular cold rooms, C-A chambers, large cold warehouses, freezer rooms, blast freezer rooms, ripening chambers, pre-coolers, pack houses with wide range of PUF insulated wall, ceiling, floor panels and doors.