Cold Storage
A cold storage is a huge refrigerated room or a building designed for storage of goods in an environment below the outdoor temperature. Such storages help many businesses by providing them enough space to store their perishable products for optimum preservation and refrigeration.
Cold storage can be customised in a vast range of sizes and formats to suit a particular industry. They find applications in food processing, pharmaceuticals, hospitals, horticulture, floriculture, dairy & Ice cream, meat, fish, agricultural or perishable accessories manufacturing. Every small and large-scale company can choose to have a different type of cold storage solution. These solutions include Blast Chiller, Ripening Chambers, PUF Insulated Rooms, Clean Rooms, and Cold Warehouses.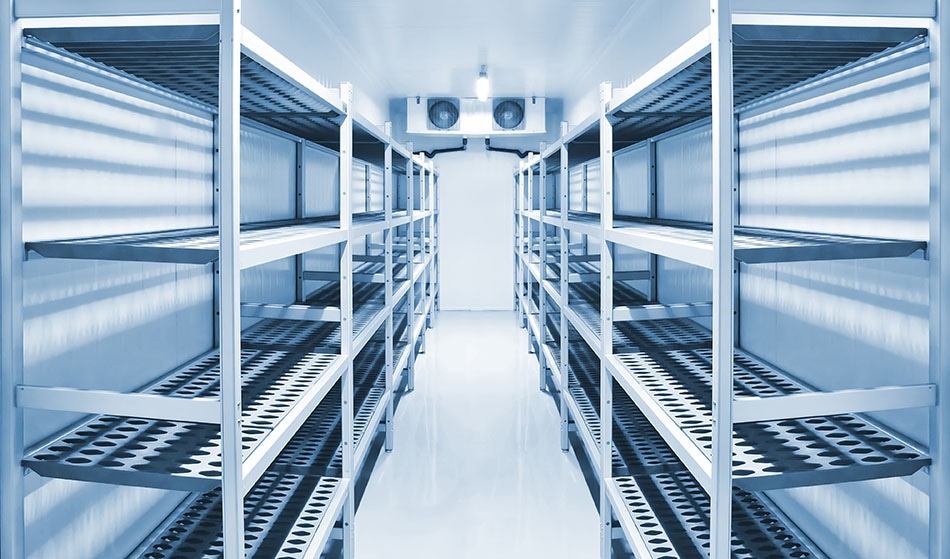 What are the applications of cold storage?
Cold storage find a wide variety of applications:
Food Industry
Most often, we all have to throw away food and other goods that get spoiled because of their inadequate and improper storage. Cold storage rooms can maintain the right temperature by controlling the moisture level and avoids the risk of food poisoning. Providing the right refrigeration  extends the life of fruits and vegetables and keeps them fresh for a longer duration.
Chemical and processing industry
Cold storage can maintain a temperature of 2-8 degree celsius. This temperature is required to decrease the rate of chemical reactions as well as microbial growth. Cold storages are therefore ideal for the storage of highly degradable drugs, vitamins and chemicals.
Pharmaceuticals and healthcare industry
A right temperature is crucial when it comes to storing medicines, vaccines and blood samples. Even a slight change in temperature can make the products useless. Cold storage has also made it possible for organ transplantation to develop and be successful.
Brewery and winery industry
Cold storage is a great tool for the wine industry. Wine and beer need a constant temperature to retain their quality and enhance their taste. For instance, the fermentation reaction needed for making of large type beer is 8-12 degree celsius, whereas for wine, this temperature is 27-30 degree celsius.  Cold storage provides the temperature required for both manufacturing and refrigeration of brew and wine.
Backup Capabilities
Cold storages not only provide additional space for storage of goods, but they also add a layer of protection on them. In the event of an electricity outage, the contents of coolers and refrigerators can be moved to cold storage thereby lowering their detoraition rate.
What are the features and advantages of cold storage?
Temperature-control
Cold storage rooms are temperature adjustable. Cold storage rooms also help protect its stores from extreme temperature and weather changes outside of the unit. This leads to a prolonged life of products stored in it. Cold storages manufactured by Vivaan PEB solutions provide you with full control, allowing you to regularly monitor the products to ensure they are being at the right temperature.
Customizable size and settings
Cooler rooms refrigeration technology has developed to the point where they can be customised to meet your particular needs. Cold storage can be designed in different sizes and types depending on the product type. This helps avoid the need for a unit that is constantly working at a freezing temperature to keep your products frozen.
Cost-effective 
Businesses can suffer huge money loss when their perishable goods become spoiled from improper storage. Cold storage can help in saving money by keeping the spoilage to a minimum. A cold storeroom keeps the goods at the right temperature and thus facilitates waste minimization and economization.
At Vivaan PEB solutions, we have safe and good-quality storage systems with the best humidification units. Our team helps create modular cold rooms, freezer rooms, and large cold warehouses that are efficient enough, with structuralized compartments for a wide range of products. Contact us for more information on various storage and food processing technologies.